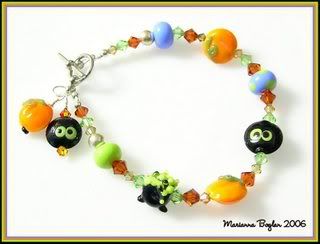 Hope you had a terrific weekend! We did a little shopping and whole lot of baseball watching lol! We got a new Tj Maxx that just opened up like 10 mins. away which is my favorite but I decided to wait on going to this one until the crazed mob gives it a rest lol! Whenever anything new opens around here the people seem to lose their minds and it's not like we live in the boony's and don't have anything, our area is pretty heavily developed so instead we headed to Toledo, Oh for some shopping. Sounds a bit nutty to leave the state probably but it's really not, we're right on the boarder so it's only like a 25 min. drive and there's better shopping and better restaurants and that sort of thing. Anyhow Hooray for the Tigers!!!! Baseball is one of the only sports I can sit a watch and enjoy! Plus there's not too much action going on constantly so it's easy to knit and watch lol! Ok onto the bead stuff that I know you'd rather hear about,
Bead specials
are coming very soon! I'm aiming for tomorrow. I've got 3 auctions ending tonight. I'm just about caught up on my
Made to Order
orders. I'm working on a few more auctions for later this week. AND I did lot's of updating on my site this weekend so you'll notice a few changes like: shopping carts,
new pages
to divy up all the new
accessories
so they're easier to find and look at and buy and the
Made to Order
page has been updated as well. Also wanted to share a pic of the bracelet I made for my sister for her B day using my spooky beads! I've got a few other things to share as soon as I get my pics uploaded, my cousin Rosa made me some really awesome things I can't wait to show you! I'll be back!