I still can't believe that it's already Christmas and that we're going to have to start writing 2006!!!! Holy Cow!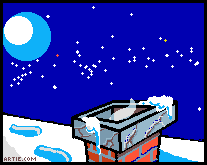 Well it's been a really enjoyable week of shopping, shopping and more shopping and lot's of beads being made and lot's of wrapping paper and boxes and presents strewn all over the house. I start out making my wrappings look all nice and perfect and then I notice myself starting to get sloppy and I know it's time to step away from the wrapping paper and take a break lol! Noah's Bumbo won't be here until after xmas boohoo but it's a web only product and the color I want is backorder. Everything else is here in time though so that's good and now I only have a few more things to pick up. Joe's last day for work is tomorrow and then he's off for the holidays woooppeeeee! I can't wait! We're both really worked up excited with this being Noah's 1st Christmas especially! We've got Noah his outfit for xmas eve and then for xmas day he's going to be Santa! lol! I'm sure he'll probably want to strangle us when he's older and sees the pictures but it was just too cute of a gettup to pass up lol!





Well I'll be popping in and out with more funnies and small talk. I hope you are enjoying your Holidays! I have an auction or two and some specials sitting here but I think I'm going to hold off on the specials until after the holidays. If I feel motivated enough to photograph and upload and all that good stuff I may have an auction or two up in a day or so!